IT IS FRIDAY THE 13TH!!!!! what does that mean exactly, well in my happy land it means that is time for a movie marathon. The movies of choice are the Friday the Thirteenth movies, naturally. Since it is my cooking night I decided to search the internet for some spooky recipes. Alas it is quite a challenge to find a recipe that is not baked or involves pumpkin. I know it is not Halloween right now but the day is of grand significance and thus needed a very special meal.
Then it hit me to make my own bloody recipe, I found a vegetarian beet soup recipe and made it into a sauce to put on some sausages.
For cooking this week I had some help from little Blondie, and my special meal was enjoyed by good friend Kenneth the Third and my sweet Wifey.
Check out Blondie on DA here: http://blissful-melancholy.deviantart.com/
and check out my wifey's blog here: http://niklea-thenothingness.blogspot.ca/
Here it is my bloody sausages.
Ingredients:
1 can of sliced beets
1 large can of diced tomatoes
1/4 of a red onion diced
1/4 cup of olive oil
1/2 cup of flour
1 tbsp of chili powder (more if you like it spicy)
1 cup of cream
2 tbsp of liquid honey
2 cloves of crushed garlic
6-10 Sausages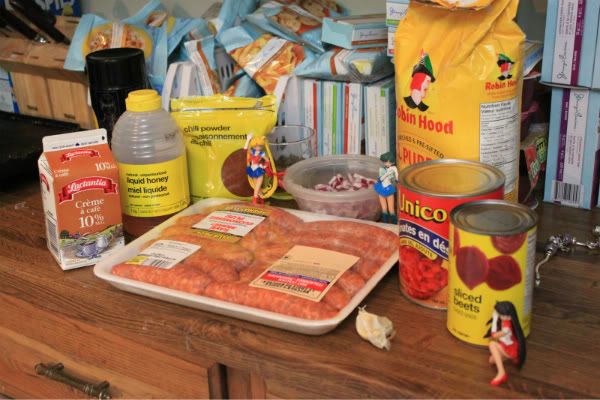 To start using a medium sized sauce pan heat up the olive oil for about a minute or so. Then add the red onion and garlic and heat until soft. Once soft add the chili powder and continue to cook for another minute, use your best judgement on the heating times. Next turn down the temperature to just above a slight simmer and add the tomatoes to the mixture. Stir regularly.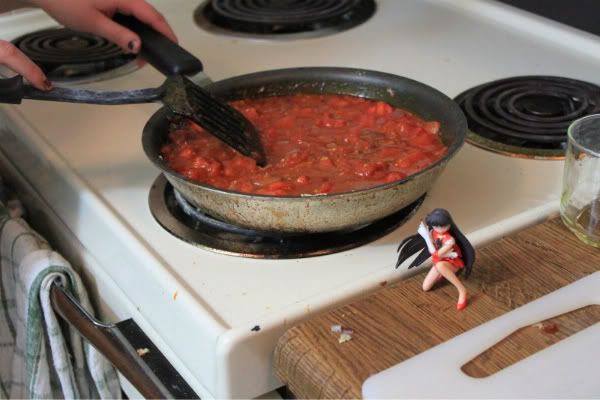 In a medium sized pot pour the cream and beats, and bring to a simmer then add the honey and any extra spices you might enjoy, this includes salt and pepper witch should be added to most meals. Next add the tomato mixture and stir together, and add the flour a bit at a time while stirring. At this point you have made a hardy vegetarian soup if you choose not to continue.
Next cook the sausages in a medium skillet, and use the soup to base the sausages. continue to turn and rotate the sausages while brushing on the mix until the meat is cooked thoroughly. Serve by plating the sausages and pouring a ladles worth of the soup over top of the sausages.
I choose to serve with asparagus... and enjoy