It is Tuesday and this is the day I like to put some time aside to think of all the fantastic kinds of geeky and non-geeky games there are in the world. I like to find those games, expansions or little extras that make the games more fun and interesting but alas there is very few geekdom shops in my area of Calgary. But wait Great news everyone there is this new geek shop that has opened it's doors up to the public in the south east of Calgary. This haven of geekism goes by the handle IMAGINARY WARS.
Located on the corner of elbow and southland this is a fairly central location in the south east of Calgary and a hop, skip and a nice walking distance from a train. Situated right behind a good old Timmie Hoes so all the geeks can get their caffeine fix easily, and a giant tiger is in the perfect position (being just down the parking lot) for easy stocking of snacks.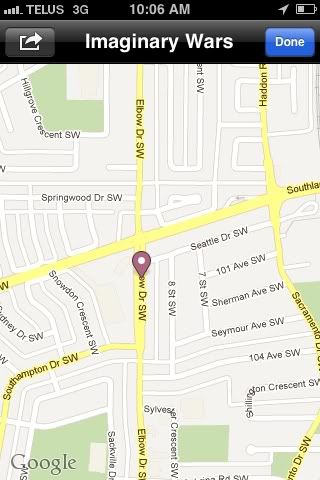 The customer service is spot on, the staff is very knowledgable of the products carried which in the geek kingdom not being so could mean your demise. On top of that I had a very excellent experience when I went in to the shop with some friends, one of us purchased munchkin a game non of us had ever played. It was not busy being a Friday morning and the gentleman behind the counter offered to let us play in the store if we wanted. We took him up on his offer and he helped us learn how to play so we could teach our friends.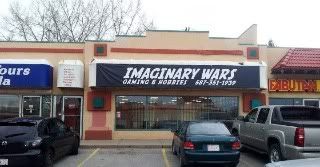 If you are a geek in Calgary this is a place to check out. They are a new shop right now and a bit of an underdog so let us show them that we appreciate the little guy and give them our business.