It is Friday and that means that I go and take a gander through my list of recipes I have found online that I would like to try out. I have started to collect all sorts of recipes that look yummy and will increase my skill base. It has been a crazy couple weeks for me over here and I have unfortunately not gotten the chance to get into my cooking groove. Then in the last couple weeks one of my friends asked me why I stopped and my main reason was because I hate cooking when I am the only one enjoying it. Then he volunteered to be my food guinea pig and so this week I was joined by my favorite ginger, so for the weeks where he is kind enough to be my test subject I will start calling those segments Cooking With My Favorite Ginger!
So this week since I have been absent from my poor lowly kitchen for so long that I decided that I needed to double dose my recipes this week. So we have creamy zesty shrimp skewers and a sweet potato salad. This Week I was joined by two of the Monstars, who opposed bugs bunny and pals in the masterpiece of my child hood space jam. They were kind enough to pose for photos as well as join us for dinner.
lets start with:
The Creamy Zesty Shrimp Skewers
Ingredients:
3 1/2 table Spoons of Light Mayo
2 Table Spoons of Chopped Chives
1 1/2 tbsp of sweet with heat (or any thai chili sauce you like)
1 tsp of chili powder
2 tsp of my favorite spice, rooster sauce (Sriracha Sauce)
about 30 De-viened shrimp
so this dish takes a little prep work to make but turns out freaking delicious, but you should start by skewering the shrimp. I put about five or six of the slippery little devils onto each skewer, it helps to heat up the skewers a little bit so that they slide straight on through. Once you have stabbed your fair share of crustaceans with thin wooden sticks then in a small bowel mix all the rest of the ingredients together.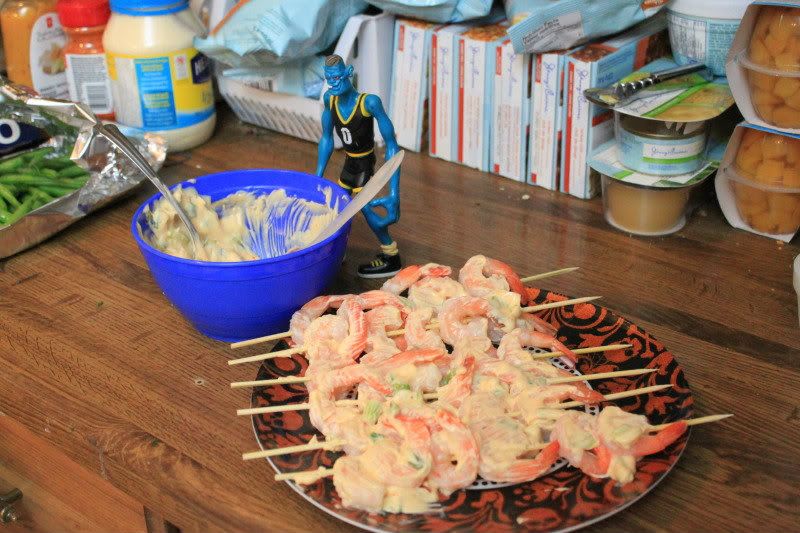 Apply the mix to the shrimp sticks and throw another shrimp on the barbie. use your better judgement to tell when they are done cooking.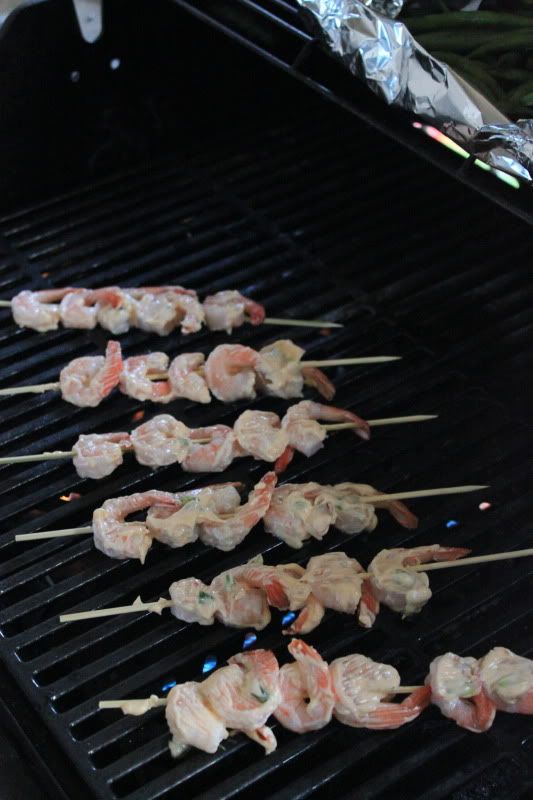 Next up
Sweet Potato Salad
Ingredients:
1 Yukon Gold Potato Cubed
1 Sweet Potato Cubed
half a cucumber Cut
1 cup of apple cider viniger
Honey Mustard (to your own taste)
1 tbsp Dill Weed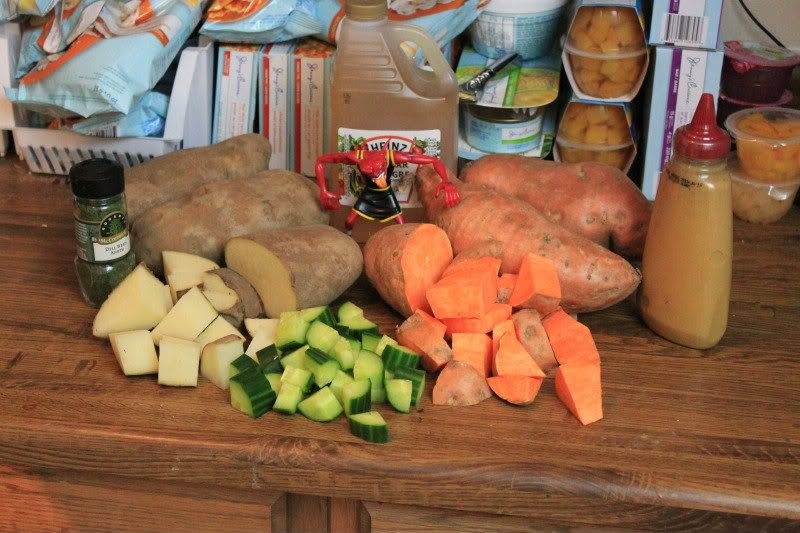 Start by boiling both the kinds of potatoes in a large pot of water until they are soft enough to poke a fork through them, this takes about 20 min. Then drain the water away leaving the soft potatoes
Next the easy part.... add every other ingredient to the potatoes, mix and chill for 10 min then serve.
This is a very light meal and is great for the summer months, I made up some green beans to partner up with the shrimp.