This is the start of my second full day here in the grand city of Winnipeg and the events that transpired yesterday were indeed joyous so do allow me to recap. The day like all good adventures starting anywhere in Canada began with us trying to find a Tim Horton's, which at first proved to be a challenge in upon itself. In a city that has the most restaurants per capita, according to my uncle, it took us twenty minutes of driving and almost giving up and settling for McDonalds before we found one. Ironically enough there is a Tim's half a block from our hotel in the other direction then the direction we started our journey on. Due to my small size I was delegated to sit in the back of our rental bus, oops I mean SUV.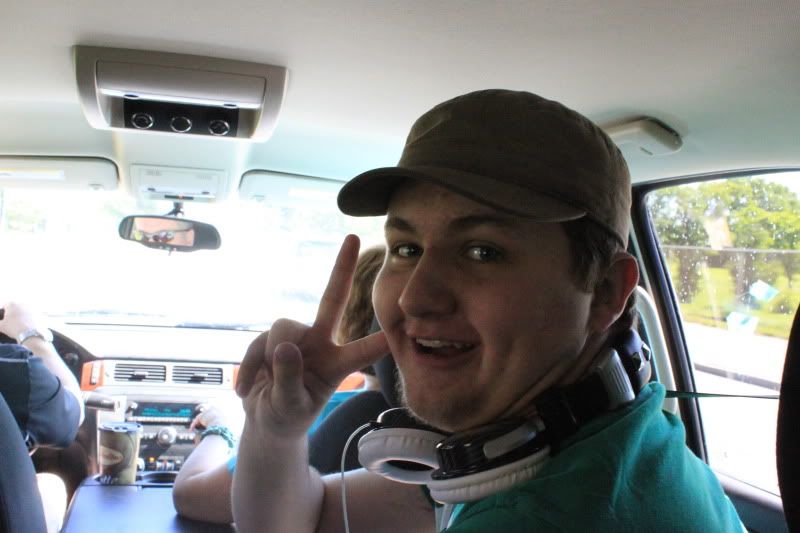 Then we were off to my Oma's and Opa's house, for those who are not of Germanic descent they are my grandparents, to show my Wifey where I spent every odd summer while I was growing up. I suppose this is the side of my family where I get my tendency to collect things because in my Oma's house there are lots of things and pictures to look at. All the things that have been amassed have a story behind them so that makes it interesting and Oma is always willing to tell you where she got them.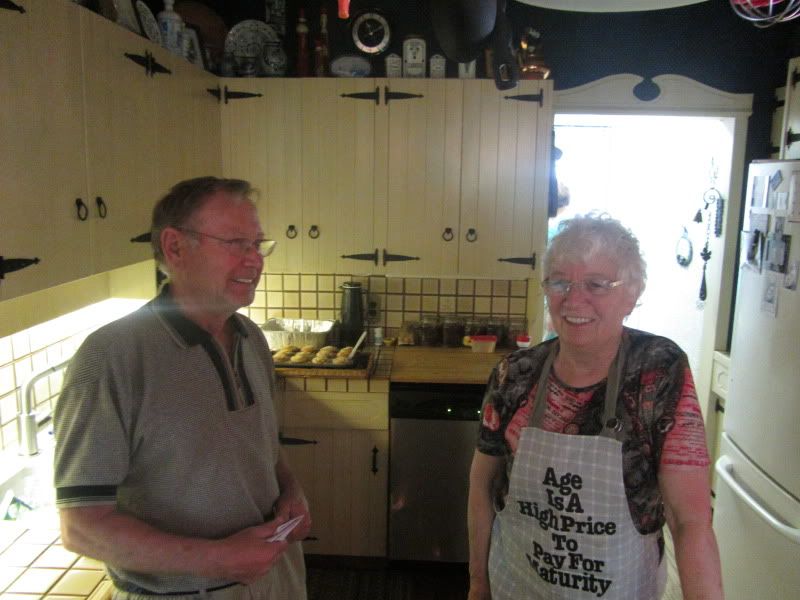 Brudar and myself proceeded to show my Wifey around the estate of my family all the little uniquequirks about my Oma and Opa's house.One thing about my clan is that we are not the greatest climbers in the world, sothere is a tree outside of my Oma's house that has planks added to it to makeit easier for use ground loving folks to scamper up.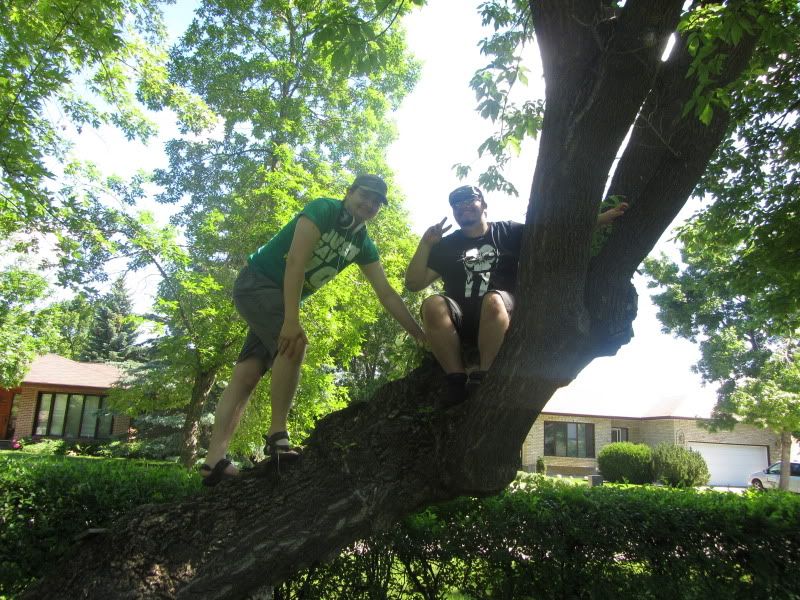 Then we were off like a rocket to the quite family cabin for a day trip to enjoy old memories of a day long past. The road to the cabin took us through a little town called Gimli, which I found to be awesome and if you are geek like myself and enjoy lord of the rings then you know exactly who that is. For those who don't know Gimli was the gruff and proud Dwarf who does not want the elf to know that Aragorn threw him.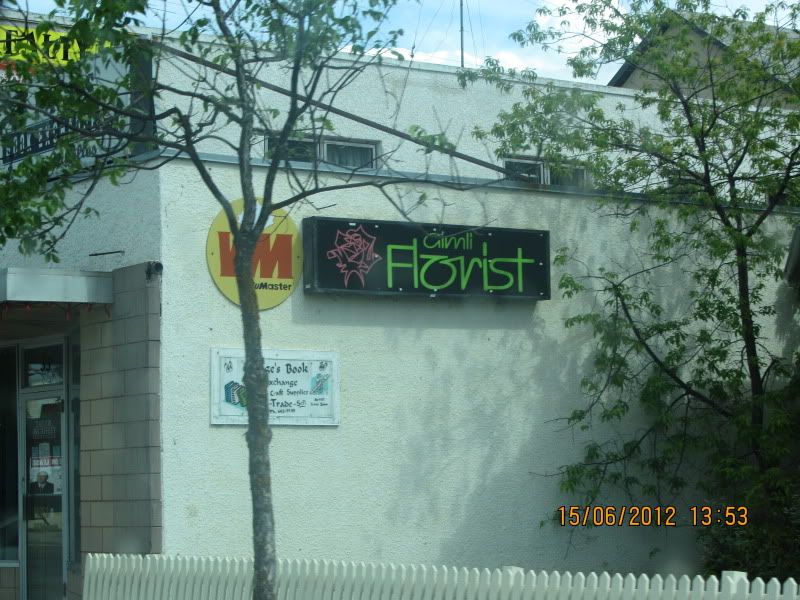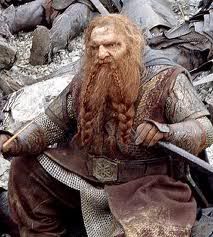 We stopped here in town to do the most touristy thing imaginable, take pictures with a giant statue, but not just any statue but a giant landlocked Viking statue. So me and Brudar clambered out of the rental vehicle and climbed the statue, I know the clan is not good at climbing so we didn't make it very high but we did it anyway. The reason we climbed was because there was absolutely no sign telling us not to, trust me I checked.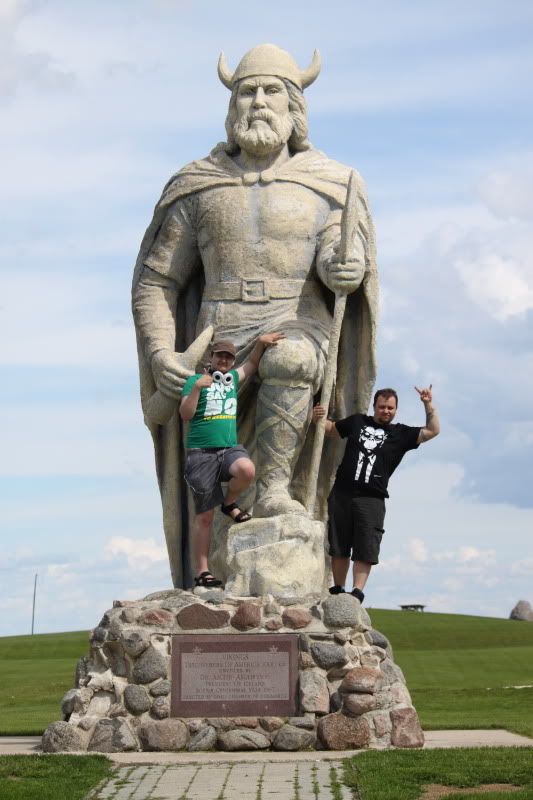 Back on the road we went to continue to our destination, the family cabin but one more thing the road that we traveled along is of some relevance. The road was number 222 and for those who know me you know that is a number is of significant importance to me and my kin. It took me and Brudar a couple times but we finally got a picture for proof.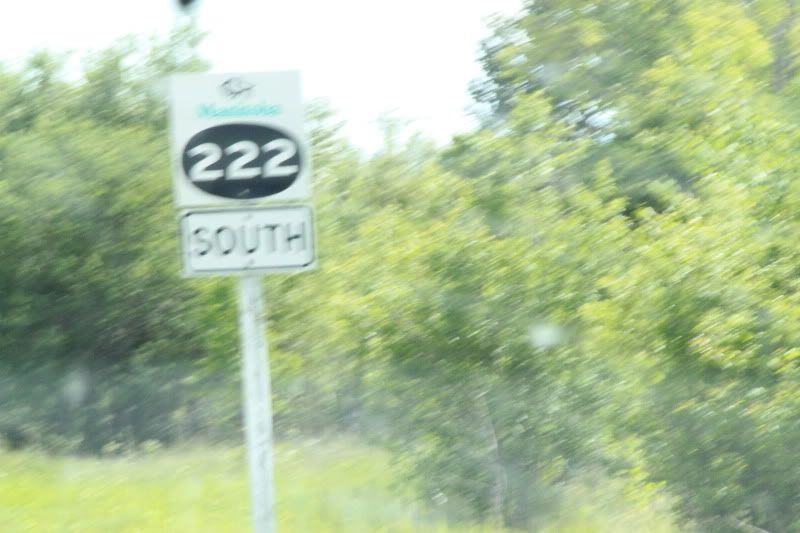 Finally we made it to Helgoland the location of the family cabin.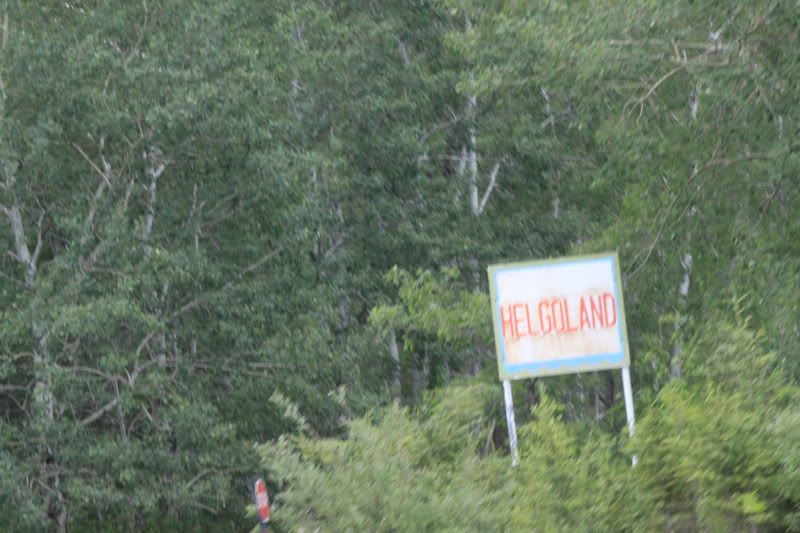 We headed straight down to the beach and the water's edge. It is still a little to chilly for a dip in the lake this time of year so we decided to take a family walk along the sand. A ways down we found a playground and my family being the big kids we are all decided to play on the rusty structures.
We returned to the cabin itself for some lunch and a riveting game of yatzee with my little Opa, a game my Wifey knows of by heart how to score. Then we returned to the House of my Oma and Opa for some dinner we had a special guest join us tonight, my Oma Lucky. Oma Lucky is actually my great grandma who unfortunately suffers from alzheimer's we still care for her greatly even tho she is very far gone.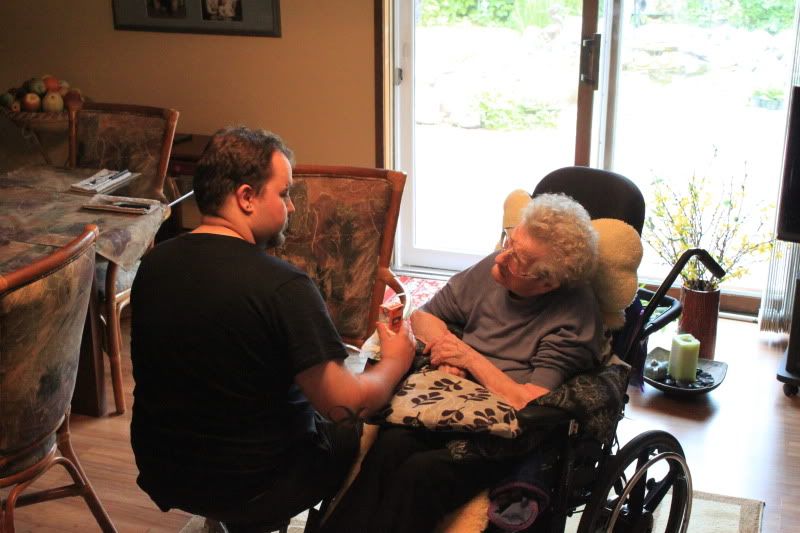 Some more visiting occurred then we returned to our hotel room for a good nights sleep to continue our adventuring
Sincerely Urban Yeti