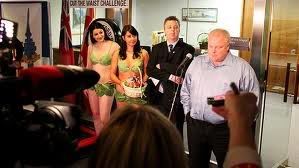 I found anarticle about how the mayor of Toronto a Mr. Rob Ford had pledged in Januarythat he was going to lose fifty lbs in 5 months. Let me just say that is a verybig challenge and good on you trying to set an example for the people of yourfine city. Well Mr. Ford stepped up on the scale for his final weigh in and unfortunatelymissed his goal by 33 pounds.
This is an Open Letter To: Mr. Rob Ford
Now your "Cut the Waist" PR campaign may have fallen down on the couch and decided that it wants another bag of chips but don't feel discouraged. You are the mayor of Toronto and you got there because you represent average Joe. I will tell you a secret about the average Joe, see he struggles with weight loss too. I myself have been struggling over the past month with my weight loss, I set a goal in December to lose 70 spare pounds off at by this August and I have kind of hit a wall myself.
The media had a field day when you were spotted sneaking away from a KFC with a full and happy belly. We have all been there when I go home I have to pass by my favorite pizza joint and some nights I succumb to that desire and order a 14inch green pepper, red onion and ground beef pizza. It is hard some mornings when I am pushing my meat sack of a body around the gym and question myself as to why am I punish myself like this.
Remember this no matter what those vultures in the press say you sir are thirteen pounds lighter and that is something more than our mayor Nanshi here in Calgary can say. You set a goal for yourself and you did it publicly props to you, I couldn't bring myself to do that, you have a big pair of cojones. According to a study done by the United nations 75 percent of North Americans are overweight so remember you are not alone in your struggle, so pull on your sweatband hit the gym and keep trying.
NEVER GIVE UP AND NEVER SURRENDER, this is the war on obesity and if we work together to help each other we can get through this.